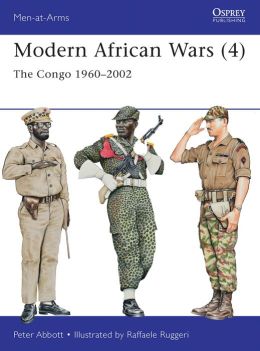 I mention before about gaming the Congo War of the early 1960's and my interest in it.

By sheer chance, I stumbled across on Amazon that Osprey is going to be releasing a booklet on the Congo Wars, 1960-2002, by Peter Abbott.

I am very pleased with this news.

It will be officially the fourth booklet from their Men-At-Arms series for the Modern African Wars.

Its expected release date is in February, 2014. This also happened to occurred after I dug out my 15mm Peter Pig Africans while cleaning the basement and thinking about mounting them on FOW bases and start getting back my Congo project.

I am taking it as a sign that the Congo must be free (of mineral wealth) again!
I just happen to finish my book on the Civil War in Louisiana and will be starting up a new book, so it looks like I will be starting Mad Dog Killers: The Story of a Congo Mercenary, by a former 'Mad' Mike Hoare's 5th Commando merc, Ivan Smith very soon.

I have already read both of Mike Hoare's Congo books, so I am looking forward to this one as well.

Unfortunately, most of the books on the Congo War that I don't have are hard copies and not electronic.

I was hoping to eventually cut back on my book collect but getting everything electronically.
I have plans on how I am going to convert some figures to do the Irish, Indians, Swedish, &Ethiopian UN troops, as well as the Katanga and Mercs troops.

I will not be able to get them 100% accurate, especially with some weapons, but I will have to live with it.

But the big thing will be to find someone that will take on the job on making 15mm
SKPF APCs
and Ford Thompson armored cars for my UN troops, as well as the odd look tower turret for the M8 Greyhound that the Katangese army had.

I am going to start checking some of the different manufacturers about custom orders.